Wrist-worn fitness trackers that can monitor your steps and heart rate were once seen as cutting-edge devices. Now, these wearables are becoming more high-tech with each release, equipped with features like personalized workout programs and the advertised ability to monitor stress or sleep quality.
Since 2015, we've been running, walking, swimming, cycling, sleeping, and, in short, living with 45 different fitness trackers day and night to assess their accuracy, ease of use, and comfort. Although no tracker perfectly recorded every metric we tested, we found that the simply designed, yet feature-packed Fitbit Inspire 3 is the best option for most people who want to monitor their activities with metrics like distance traveled, step count, heart rate, and estimated calories burned.
Our pick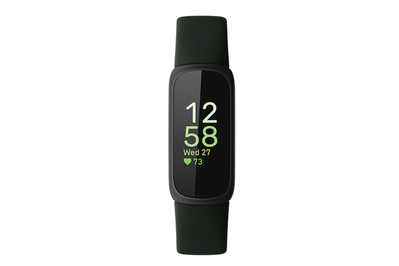 This easy-to-use tracker is comfortable to wear all day and provides accurate measurements, without too much clutter on the homescreen.
The Fitbit Inspire 3 was the most accurate fitness tracker for step count and near the top of the rankings for every other test we performed. The touchscreen display is only 1.5 inches tall but is simple to navigate, thanks to its sharp colors and easily readable text and icons. The thin, half-inch band doesn't feel clunky during workouts or everyday use, and the Inspire 3 weighs just 0.32 ounce—lighter than a typical USB flash drive.
Fitbit has a free app where you can connect with other Fitbit users, log information to learn about stress management, and dig deeper into data such as heart-rate history (a premium version of the app costs $10 per month or $80 per year) and offers access to apps like Calm for sleep and meditation). The Inspire 3's battery is advertised as lasting 10 days before charging, although we found it to come in a fair bit short of that mark.
Battery life: up to 10 days
Water resistance: yes, for up to 50 meters
GPS: when connected to a phone
Runner-up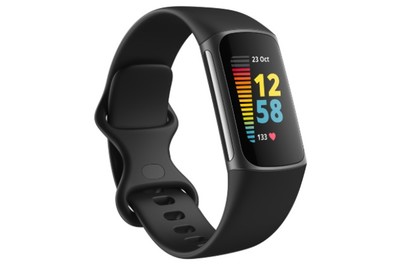 This upgraded model provides accurate measurements and has more features than our top pick, but had some functional hiccups the longer we used it.
The Fitbit Charge 5 shows the full capability of what a fitness tracker can offer these days. From its built-in GPS to its ECG app to monitor heart health, the Charge 5 goes beyond tracking step count (which it's pretty accurate at). We've noticed some flaws in the Charge 5 over the past year, though, most notably syncing issues with the Fitbit app.
Battery life: up to seven days in watch mode, or up to five hours in continuous GPS mode
Water resistance: yes, up to 50 meters
GPS: built in
Also great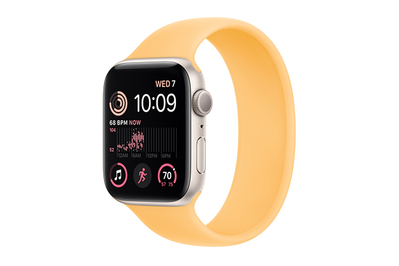 The Apple Watch SE delivers some of the most precise readouts and—with a mobile plan—can be used for calls and messaging. But its battery life is much shorter than that of our Fitbit picks.
The second-generation Apple Watch SE has a vibrant, clear display and the best intuitive touchscreen of the devices we tested. Even if you're not connected to an iPhone, you can take advantage of a large library of apps. Performance-wise, the Apple Watch SE—also our budget pick smartwatch for iPhone users—accurately measured heart rate, steps, and distance. But for people who want to go on a run and just track, say, their pace and distance, the Apple Watch SE might be overkill, especially given its higher price and limited battery life.
Battery life: up to 18 hours
Water resistance: yes, up to 50 meters
GPS: built in
link