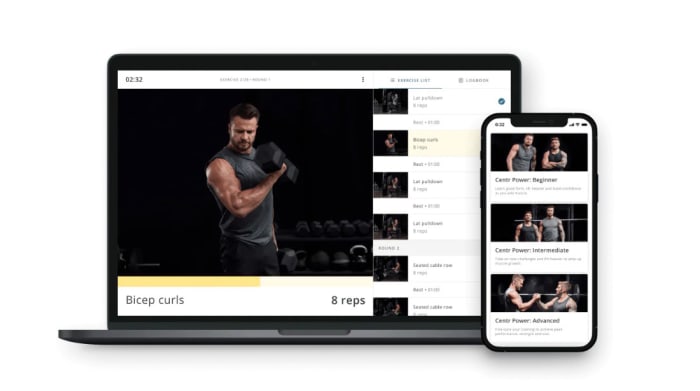 The products featured in this article have been independently reviewed. When you buy something through the retail links on this page, we may earn commission at no cost to you, the reader. The Sports Illustrated editorial team is not involved in the creation of this content. Learn more here.
Choosing a fitness app can be difficult because many of the top fitness apps mainly focus on exercise. Therefore, if you are looking to address your health from a more well-rounded approach, making changes to your physical activity, diet and stress management, you often end up needing to download and subscribe to numerous health apps to get a more complete fitness, health and wellness support system.
The Centr app is the brainchild of Australian actor Chris Hemsworth, and is designed to give everyday users access to the knowledge, guidance and motivation from the team of hand-picked, world-class experts chosen by Hemsworth that help him get into peak physical and mental shape. Subscribers get full access to personalized workouts, recipes and training programs, all designed by top-tier professionals to get the body and mind in the best shape.
In this article, we provide a complete review of the Centr app, including what the workouts and training programs are like, what to expect with the meal plans, the meditations offered, who the app is good for, membership fees and how to use Centr.
Centr Key Features
Cost: 12 months on sale for $89.99 ($7.50/month), normally $119 ($9.90/month); three months $59.99 ($20/month) or one month $29.99
Customizable programs
Necessary tech: Compatible with Apple Watch; you can watch Coached Workouts by connecting your app to your smart TV using AirPlay or GoogleCast. If you're using a web browser on desktop or mobile, you can also cast workouts to your TV using Google Chromecast
Compatibility: iOS, Android
Nutrition/diet guidance provided: Yes
Pros
Free seven day trial for new subscribers.
Subscribers get a complete, well-designed health program that combines exercise, diet, mindset and wellness initiatives to help you reach your goals
App is easy to navigate
Personalized workouts as well as targeted training programs to choose from
Ability to swap workouts and recipes provides flexibility
Many workouts require minimal equipment, allowing you to work out at home or at the gym
Cons
Expensive
Can be overwhelming or time-consuming for some people if you take on the entire program (workouts, nutrition and wellness habits)
Some recipes take a long time to prepare
What is Centr?
Centr is a personalized digital health and fitness app and program curated by Australian actor Chris Hemsworth. The program, which is available as an iOS or Android app, as well as a web-based platform (via Centr.com), consists of Hemsworth's hand-picked team of world-class experts in the field of fitness, nutrition, wellness and mindfulness.
Centr membership includes unlimited access to personalized daily workouts, meal plans, meditations, wellness tips and articles and social support through a 24/7 online community of fellow members. Hemsworth has created Centr to be a comprehensive approach to physical and mental health, including the three ingredients he believes are necessary to live a healthy, well balanced and happy life: structured fitness training, eating right and living well by taking care of your mind.
Related: The Best Online Workout Programs
Centr App Interface
During the signup process, the app has intake questions about what your primary fitness goal is (for example, weight loss or building muscle), your dietary preferences (omnivore, pescatarian and vegetarian among others) and how many times you would like to workout each week. You also enter personal details such as your name, gender, height and weight.
Once you input your intake information, the Centr app generates your personalized Planner. Your Planner is where you'll find your workout for the day and meal plans for the day based on the goals you indicated.
For example, if you indicate that your primary goal is weight loss and you have no dietary restrictions, your meal plan will include breakfast, lunch, dinner and an optional healthy snack that meet the calorie needs based on your body size and activity level.
The Planner also has a "Calm" section with mindset challenges like meditations or sleep visualizations and "Tools and Advice," which are tips or blog articles relevant to your goals written by the expert trainers, wellness coaches and nutritionists on staff.
You can also see an upcoming calendar for the coming weeks and months to view your exercise plan and meals laid out.
One nice feature is that you can swap out workouts and/or meals in advance. This can be beneficial if you know you're going to be traveling or have an injury or illness or can't make it to the grocery store to get all the ingredients on the shopping list. In the section with the suggested workout per day based on your fitness goal, you can also choose between a Coached or Self-Guided workout. The Coached workouts are led by the Centr trainers and the Self-Guided workouts allow you to go entirely at your own pace.
One of the previous downsides of the Centr app was that you were unable to use your own playlists during workouts and connect your Spotify or Apple Music account. However, Centr now allows you to control the audio. You can tap the musical note icon once the workout begins to select your preferred combination of music, trainer and notification beeps.
You can choose to listen to your own music from Spotify or Apple Music, or you can select an Apple Music playlist curated from HemsworthChris and the Centr Team. If you choose trainer, music and beeps, you can still hear beep cues and encouragement from your trainer while jamming to your tunes.
Related: The Best Personal Training Apps
There is a Centr Apple Watch app that allows you to monitor your workout metrics, including your heart rate, during your workout. To do so, you need to pair your iPhone and watch, then open the Centr app on your Apple Watch. Once the app is open on your watch, select the workout you are going to do from your iPhone app. A timer will automatically begin on the Apple Watch and end as soon as it is over without you having to remember to hit "start" or "stop."
The Centr app integration with the Apple Watch is still pretty minimal. Basically, the Apple Watch app only tracks the workout but you can't see the specific exercises you are doing.
Overall, the Centr app for Android and iOS is user-friendly and easy to navigate because the interface is simple and clear with no distracting sidebar elements.
Centr Cost and Subscription
All new members can try a seven 7-day free trial of the app, with full access to assess all of the features and try the workouts, meal plans and mindfulness content.
After the seven day free trial ends, Centr subscription fees are based on the length of the subscription you purchase. The 12-month subscription is the best deal. It is normally $119 per year ($9.90/month) billed all at once, but is on sale for $89.99 ($7.50/month). You can also buy a 3-month subscription for $59.99 ($20/month) or subscribe one month at a time for $29.99/month.
Although the price point of the Centr subscription is more expensive than many popular fitness apps, remember that the app fee includes full access to a personalized fitness, nutrition, mindset and wellness plans. If you are interested in guided workouts and a personalized meal plan with recipes, the Centr app subscription can be well worth the money for the content you get.
Working Out With Centr
Arguably, the best feature of the Centr app is the robust, varied and effective workouts and training plans. Hemsworth has assembled a team of world-class trainers who develop and lead the workouts and design the training plans based on your goals and fitness level. There are also short-term targeted training programs.
Your workout for the day appears in the Planner, and you can choose a Self-Guided or Coached workout. Depending on your fitness level, primary training goal and number of days you indicated you wanted to train, you may or may not have a workout scheduled for a given day. For example, if you are "advanced" and looking to lose weight, you will have six workouts per week. Centr does encourage listening to your body and taking rest days whenever you need them, even if you are following a specific short-term training program that has you working out most days per week.
One nice feature is that there are usually multiple trainers leading a workout so that you can follow modifications for exercises based on your fitness level. Before the workout begins, you are usually told which instructor will be demonstrating modifications for beginners. These variations on the exercises typically reduce the intensity or impact level for those with injuries or who are just getting started working out. You are also reminded to go at your own pace or rest if the workout gets too difficult.
You also have an option to add extra workouts to your Planner or enroll in any number of the specific Centr training programs like Centr 6, Centr Ignite or Centr Align. These training programs can be found in the Programs section of the app. They are short-term workout programs targeted to specific goals. Most of the Centr fitness programs are also available for each fitness level—beginner, intermediate and advanced—so you can choose the intensity that matches your ability level.
Centr membership gives users access to all the training programs and workouts. There are no premium programs that cost more money, which is great. Furthermore, if you start a training program and decide it's no for you, you can switch programs or just go back to doing your daily workout in the planner without following a specific training plan.
The top Centr training programs include the following:
Centr Power
Centr Power is primarily targeted at building muscle (hypertrophy training), and is a gym workout program designed by Chris Hemworth and his personal trainer, Luke Zocchi.
Program Length: 10 weeks per level
Training Style: Hypertrophy (building muscle)
Required Equipment: You will need access to a full gym
Fitness Level: Three progressive levels: Beginner, Intermediate and Advanced options
Primary Trainer: Bobby Holland Hanton (Chris Helmsworth's stuntman)
Centr Fusion
Centr Fusion is a hybrid workout program that progresses in difficulty, with varied workouts and trainers. It also features weekly mindfulness themes.
Program Length: Six weeks
Training Style: Hybrid training (BoxHIIT, Strength, MMA and PowerFlow)
Required Equipment: A workout mat and dumbbells
Fitness Level: Beginner to Intermediate, with modifications for both fitness levels are demonstrated during the workout on the screen at the same time
Primary Trainers: Ashley Joi for strength training workouts, Michael Olajide Jr. for BoxHIIT workouts (boxing-infused HIIT) and Tahl Rinsky for PowerFlow workouts (described as "yoga-meets-functional-strength-meets-cardio")
Centr Unleashed
Centr Unleashed is a bodyweight strength training and cardio workout program that has different workouts that evolve as your fitness improves. There are HILIT modifications for every ability level to make the program suitable for everyone.
Program Length: Six weeks
Training Style: HIIT/HILIT bodyweight training (high-intensity interval training and high-intensity low-impact training)
Required Equipment: No equipment required
Fitness Level: Beginner to advanced; you choose your level before you begin the training program
Primary Trainers: Luke Zocchi and Ashley Joi with bonus challenges from Dan Churchill and a weekly stretching session to aid recovery
Centr 6
Centr 6 is Chris Hemsworth's favorite way to train with minimal equipment when he's on the road, performing both cardio and strength training exercises. It's a great program for at-home workouts and is designed to kickstart your fitness goals or get you back in shape after time off.
Program Length: Six exercises, six rounds performed six days a week for six weeks
Training Style: Cardio and strength training
Required Equipment: Bodyweight and a set of dumbbells or adjustable dumbbells
Fitness Level: Beginner to advanced, with modifications for all fitness levels are demonstrated during the workout on the screen at the same time.
Primary Trainers: Luke Zocchi, Ashley Joi and Da Rulk
Centr 6: Phase II
The follow-up program to Centr 6 that builds on the intensity and difficulty as your fitness improves. You don't have to complete the Centr 6 training program first.
Program Length: Six exercises, six rounds performed six days a week for six weeks
Training Style: Cardio and strength training
Required Equipment: Set of dumbbells or adjustable dumbbells
Fitness Level: Beginner to advanced; you choose your level before you begin the training program.
Primary Trainers: Luke Zocchi, Ashley Joi and Da Rulk
Centr Align
Centr Align is a body and mind program that infuses Pilates and yoga along with mindfulness-based exercises and breathwork to tone and align your body and build confidence.
Program Length: Four weeks
Training Style: Yoga and Pilates
Required Equipment: No equipment required
Fitness Level: Beginner to intermediate, or anyone needing a body/mind restore
Primary Trainers: Tahl Rinsky for yoga and Sylvia Roberts for Pilates, with guest appearances from Luke Zocchi and Bobby Holland Hanton.
Centr Masterclass: Da Rulk
The Masterclass Da Rulk training program focuses on functional training to help you improve how your body moves during everyday activities of daily life.
Program Length: 13 sessions
Training Style: Functional training
Required Equipment: Bodyweight only
Fitness Level: Beginner to advanced; everyone progresses through the program the same way: Beginner (five sessions), Intermediate (four sessions) and Advanced (four sessions).
Primary Trainers: Joseph "Da Rulk" Sakoda
In each training program, all of the workouts provide clear guidelines regarding the necessary equipment, the duration of the workout, the fitness level and the trainer who will be leading the class before the workout begins so that you can make sure you are ready and that it will be a good fit.
You can even watch the coaches demonstrate the moves one by one before the workout begins so that you'll know how to do them when they come up in the workout. This is a major benefit of Centr for beginners. Using proper form and technique during training is important to not only reduce the risk of injuries, but also to increase the effectiveness of an exercise. However, if you're trying to keep up with the pace of the trainer and you're unfamiliar with the exercises, it can be overwhelming and difficult to feel confident that you're doing things correctly and getting the most out of the workout. You can also return to these instructions later on to master the technique if you feel unsure.
Nearly all of the training programs include a warm-up, or the trainer ensures you are warmed up before you get moving with high-intensity exercises. The trainers also perform the moves and point out modifications for different fitness levels during the workout, and provide lots of motivation and uplifting words of encouragement.
Another benefit of Centr workouts is that very few require equipment, and those that do tend to need little more than dumbbells, a jump rope or one or two kettlebells. Again, you can see the required equipment before the workout begins to make sure you have the necessary fitness gear if you're doing at-home workouts. If you see that a workout requires equipment that you don't have in your home gym, you can swap out the workout for another one that works with your setup.
There are also specific Centr training programs that require no equipment at all, such as Centr Unleashed, which is solely bodyweight workouts. The minimal equipment or bodyweight workout plans are great for those doing at-home workouts, but if you are working out at the gym, there are programs that recommend using additional weights, such as medicine balls and barbells.
Centr encourages community and social support, particularly when you are taking on one of the programs. Subscribers have access to the free Facebook community, where you can meet others doing the program and find support, ask questions and build motivation to tackle your workouts and diet goals.
Centr Nutrition and Recipes
One of the central tenants and major features of the Centr app is the nutrition and recipes arm of the wellness program. Chris Hemsworth doesn't get his sculpted body just by exercising.
Your personalized meal plan appears in the daily Planner. The recipes that are created for your meals are based on your dietary preferences, weight loss or muscle-building goals, activity level and body size.
The nutrition section of the app is surprisingly robust. You will see the daily menu for your meals (and snacks if included), as well as detailed recipes that provide clear information about the prep time, cooking time, necessary ingredients, number of servings, serving size, cooking method and nutrition facts for each serving.
One of the best features of the Centr diet section is that you can choose to increase the number of servings for a recipe and then the app automatically adjusts the amount of each ingredient that you will need. You can have the option to add all of the ingredients to a shopping list that you can use by pulling up the app at the grocery store. You can also bookmark your favorite recipes so that you can come back to them or swap your top picks in when you see a meal come up in your Planner that doesn't look appealing to you.
User reviews typically note that the recipes are fairly easy to follow, and even though they are inherently designed to be quite healthy, most of the recipes seem to gain crowd approval and are said to be flavorful and satisfying. Some of the most popular Centr recipes include the burger salad bowl with honey mustard dressing, chicken pan roast with carrots, lentil lasagne with cauliflower cashew cheese and chocolate drizzle protein bars.
Related: The Best Weight Loss Programs for Women
Meditation
There are over 150 Centr meditations and mindfulness exercises. Depending on the goals that you establish when you sign up, and any specific training programs you enroll in, you might have anywhere from one to multiple recommended meditations or mindfulness activities per week.
Membership also includes free enrollment into specific meditation programs and series. For example, one of the most popular Centr meditation programs is the seven 7-day Learn to Meditate series narrated by Hemsworth himself. The goal of this series is to establish a routine for daily mindfulness meditation. Each daily meditation "workout" takes less than 10 minutes, and covers one of a variety of themes including stress release, sleep visualization, breathing, focus, body scanning and peak performance. After you finish this series, you will gain access to the hundreds of meditations and sleep fed visualizations in the app.
This beginner series is a great way to introduce beginners to meditation in a non-intimidating, gentle way. When the Learn to Meditate series is complete, you'll have access to the hundreds of meditations and sleep visualizations already on Centr to keep you moving forward.
These standalone meditations and sleep visualizations cover all sorts of topics and themes, such as "how to heal in a relationship" or "judge less, live lighter," as well as meditations specifically for kids that you can play for your little ones. Most of the meditations are very short, lasting 10 minutes or less.
Equipment Needed to Use Centr
One of the benefits of the Centr workouts is that many require minimal equipment, or can be performed with bodyweight alone. This is ideal for anyone who wants to exercise at home or does not have access to a gym. With that said, some of the targeted training programs do require dumbbells, an exercise mat and a jump rope. Additionally, the muscle-building program, Centr Power, requires access to a full gym. Before you begin any workout, you can see what type of fitness equipment you will need to complete the exercises.
If you do not have something on the list, you can simply swap out the workout for another option that doesn't require exercise equipment that you do not have. If you do want to do most of the training programs at home, investing in a set of adjustable dumbbells is ideal, and will allow you to perform nearly all of the workouts (except for Centr Power and a few other individual workouts).
Is the Centr App Right for You?
One of the primary benefits of Centr, is that compared to many of the other top fitness apps, Centr doesn't just focus on exercise, or just diet or just mindset. Rather, Centr can be viewed as a comprehensive wellness app that helps you focus on your body and mind, targeting your health with a holistic approach.
Therefore, Centr is ideal for anyone looking for a comprehensive, structured approach to improving their physical and mental health. If you have been underwhelmed with the effectiveness of just following workouts, or just following a meal plan, and want one wellness app that unifies all of the "ingredients" needed for a healthy lifestyle into one clearly laid out plan tailored to your personal goals and needs, Centr can be a great option.
Centr is also great for people who like variety in their workouts. You can swap out different workouts and choose different training programs based on your goals and available equipment. There are new workouts, recipes and meditations added weekly, keeping even long-time members engaged with fresh content.
With that said, because Centr is designed to take a holistic, multi-pronged approach to your wellness, it can be a bit overwhelming for those who lead busy lives and don't feel that they have the time or energy to devote to training, cooking and meal preparation as well as mindfulness and meditation all in one day every single day.
However, it's your wellness journey and Centr makes it clear that you should listen to your body, take rest days when necessary, go at your own pace and take whatever strides you can towards improving your health. You don't have to be perfect, and you don't have to choose an intensive routine that has you training every day of the week. If you are interested in the Centr App but have a hectic schedule, limited time to train or are a complete beginner, just start small. Try a couple of workouts per week, choose one or two recipes to follow per day and test out a stress reduction technique once or twice a week. Start establishing healthy habits that you enjoy and build from there. The app will grow with you on your fitness, health and wellness journey.
Related: The Best Weight Loss Apps
Centr FAQs
Is Centr good for building muscle?
Your personalized Centr workouts and meal plan can help you build muscle if you indicate muscle building as your primary goal when signing up for the app. You can also take on Centr Power, which is a gym workout program specifically targeted towards building muscle.
Does Chris Hemsworth use Centr?
Yes. Centr reflects the knowledge and routines that Chis Hemsworth has learned about achieving and maintaining a healthier body and mind over his life. He has assembled a group of elite trainers, chefs, nutritionists and wellness professionals to support his own health and wellness journey and the Centr is his way of bringing access to these experts and routines to everyday users.
Does Centr have a diet plan?
Yes. Centr includes a diet plan with a meal plan for breakfast, lunch and dinner for each day with healthy recipes to follow. You can swap out recipes if they don't meet your diet plan needs or food preferences. There are pescatarian recipes, vegetarian meals and meal plans for other dietary restrictions. You can also curate a shopping list with the ingredients you'll need for the diet plan for the week based on the number of servings of each recipe you are making.
Can you cancel Centr before the free trial ends?
Yes. You can cancel your Centr subscription anytime on the platform where you created your user account. You must cancel before the end of the seven day free trial or you will be charged for the Centr subscription after the seven day free trial ends.
Is the Centr app good for beginners?
Absolutely. Centr workouts can be tailored to any fitness level. Almost all of the Centr programs and workouts have modifications for beginners and you can always take extra rest days, go at your own pace or skip movements that are too difficult. There is usually one trainer you can follow in the workout that demonstrates low-impact beginner modifications in case you aren't sure how to decrease the intensity of an exercise.
Does the Centr app work with Apple Watch?
Yes. The Centr app works with the Apple Watch as long as your iPhone is paired with the Apple Watch first. By connecting your workouts to your Apple Watch, you can get a deeper analysis of your workout stats, including your heart rate, through Health Kit.
Final Thoughts
Overall, the Centr app is very well received by users and most people find it to be particularly helpful in terms of planning your exercise and diet for both the short term (day- to- day) and long term. The comprehensive nature of the fitness app takes a well-rounded approach to health, addressing not only the body through both exercise and nutrition, but also the mind through mindfulness, wellness rituals, stress reduction and yoga. Although the membership is pricey, Centr is a great value given all that it offers.
Prices are accurate and items in stock as of publish time.
link